Cable, Connectors and Tools
We offer a wide range of PROFIBUS DP, PROFIBUS PA and PROFINET cables to cater for different application requirements. In addition to the Standard Fast Connect (FC) PROFIBUS DP cable for most fixed installations, we also cater for underground cable, anti-rodent cable, flexible cable, trailing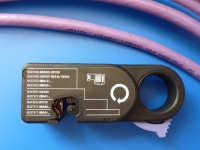 cable, festoon cable, EMC cable and armoured cable.
PROFIBUS PA cables, mostly with blue or black outer sheaths, have heavier gauge conductors, and are offered with solid conductors for fixed installations or stranded conductors for flexible application and with further EMC and direct burial options. We can supply in standard reel or cut lengths, as needed, often with next day delivery available. Please call to discuss your particular requirements.
We stock or can quickly arrange delivery of PROFIBUS DP, PROFIBUS PA and PROFINET cable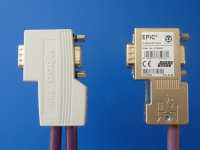 connectors from several different high specification manufacturers, including Siemens, Wago, Lapp (Epic), Profichip and Provertha. In the 9-pin D range, we cover the most frequently used 90, 180 degree options, with and without piggy-back test connectors – with other formats also available for special order. We also cover a wide range of different plug housing materials from plain plastic, to metallised plastic and all metal constructions for durability and best EMC protection.
Useful Profichip FC diagnostic connectors are offered in 45, 90 and 180 degree formats, with bus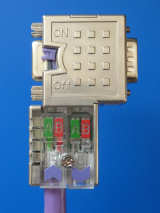 status continuously displayed on LED indicators.
All of the above connectors are certified for IP20 specification – for more challenging or outdoor installations we also now offer the recently introduced Provertha M12 connector range: these connectors are certified to IP67 . They are available in pre-made, standard length, M12 to M12 patch cable format, or in kit form for rapid and reliable in-field assembly, with crimped contacts and crimped cable support clamps – with the necessary combination crimping tools.
We also offer PROFIBUS cable screen clamps in Tee bar format and for mid-cable connections as needed for entry to cabinets as in following photos.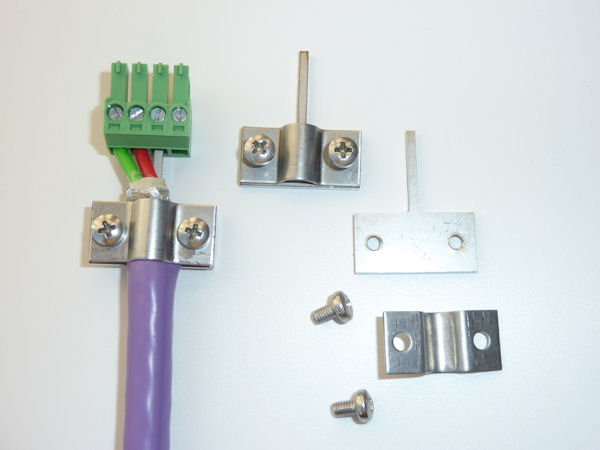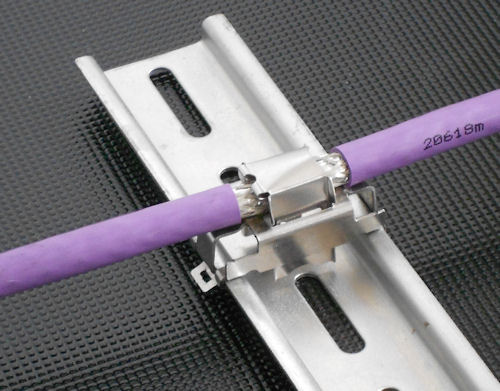 Please call for parts quotation, for pricing of your entire PROFIBUS cable kitting needs, or for details of our rapid turn-round pre-made PROFIBUS cable assembly services.