Procentec ProfiHub B5+R and other repeaters enhanced with diagnostics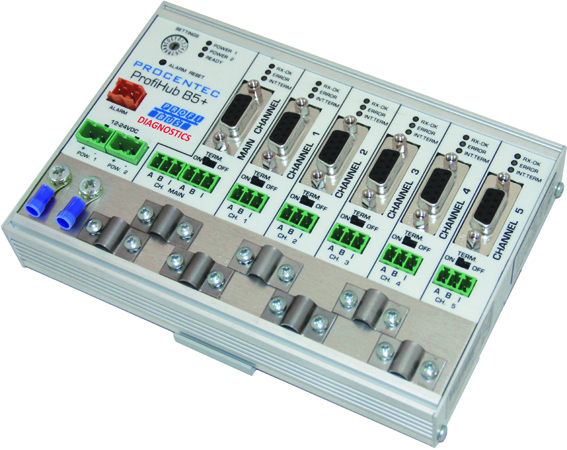 Procentec has added diagnostic check and reporting features to the long standing B5+R 5-way repeater and to their B2+R, B2FO2, B2FOR, B4FO2, B4FOR and D1 repeaters, to provide automatic 24/7 detection and alerting of device and connected network changes which are reported to the PLC in normal data exchange messages and shown via new  ComBricks web software.
These devices may be programmed to report changes in up to 4 different ways, with PROFIBUS input messages, Diagnostic messages, Extended diagnostic messages and/or Alarm relay with connection to front panel Alarm socket.
Both event and statistics changes may be indicated, including live list changes, redundant power channel changes, PROFIBUS redundant channel changes, baud rate changes, device terminator switch changes and communications on channel stopped. Message failure statistics reported include losts, syncs, repeats, illegals, extended diagnostics and diagnostics while in data exchange.
In order to provide this diagnostic information over the PROFIBUS network to the connected PLC these repeaters may now be set to operates as normal PROFIBUS DP slave devices, each with unique network address. The required address is set-up by software using ProfiTrace or similar tool. As with other slaves, each of these repeater types now has associated GSD files available from the www.procentec.com website, taking the top Service & Support link.
Further information and evaluation samples are available from Hi-Port Controls :-
| | | |
| --- | --- | --- |
| Product | Price | Order Code |
| B2+R | Contact Hi-Port | 17210R |
| B2FO2 | Contact Hi-Port | 17220 |
| B4FO2 | Contact Hi-Port | 17420 |
| B5+R | Contact Hi-Port | 17020R |
| D1 | Contact Hi-Port | 16121 |

For quick demonstration procedure for a B5+R(D) take this link
Phone 023 92 552855